Release: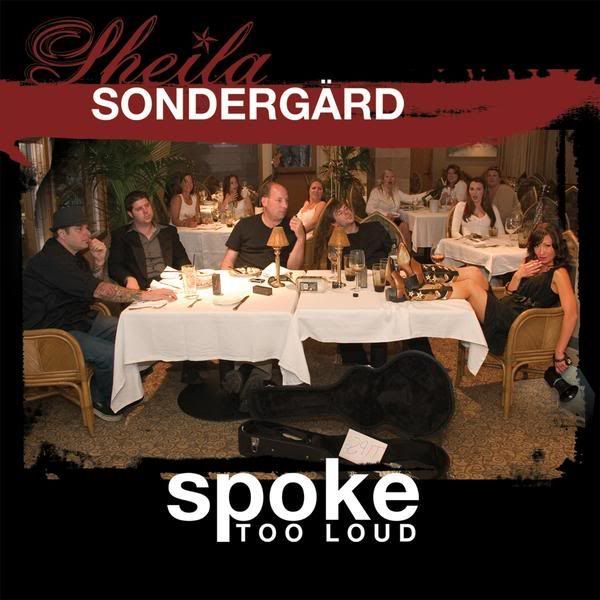 We just completed recording a 10 song album, "SPOKE TOO LOUD", and it was released privately on July 11th @ Humphreys by the Bay in San Diego, Ca. The album is due to hit shelves locally September 11th, 2007 and will be available nationally as soon as we get some distribution, which is in the works. The Album is available through Itunes worldwide, Emusic, Sony connect, Napster, And Rhapsody.
"Spoke Too Loud" was produced, engineered, and mastered by 3 time SDMA Producer of the year Sven-Erik Seaholm @ Kitsch & Sync studios (this guy is amazing). Sheila Sondergärd is releasing her album "SPOKE TOO LOUD" wholly independent, and doing a grass roots campaign to get her album out there. We are currently booking shows throughout San Diego and abroad, as well as sending in the Promo packs to college and independent radio stations worldwide, Music magazines too. So any and all help would be greatly appreciated.
In the beginning of 2007, Sheila teamed up with five of San Diego's very best musicians, forming a band of world caliber talent. Their music is extremely diverse and boundary less, yet cohesive, intelligent, and thought provoking. We call it Intellipop, A sound that spans the genres of Jazz, Folk, Acoustic, Rock, Alternative, Reggae, Americana, and pop among others. Featuring 2007 Grammy Award winning drummer Bill Ray, Chuck Prada from the Black-eyed Peas on Percussions, this band is one to watch, and listen to!
"The textured and sensitive sensuality revealed through throaty vocals, in Shelia Sondergard's recently released "Spoke Too Loud" show her growth and maturation as a promising new up-and-comer. While Sondergard's past work, has lent towards a more angelic meets acoustic sound, "Spoke too Loud" echoes the complexities of finding an independent voice amongst the world of have nots and heartbreaks. Performing with a full band that includes Sean Martin, Jason Littlefield, Jeremy Miller, Bill Ray and Chuck Prada, "Spoke too Loud" commands a larger than life presence, where songs layered in full form stylings and moody undertones reveal the subtleties of Sondergard's confessional style. Stand out tracks like the "Same Ol' Bend" and "Change" illustrate Sondergard's effortless range and wry wit. Overall, "Spoke too Loud" wonderfully highlights a new voice of beauty and independence that is as much pure emotion as insightful intellect". Kelly Grace - Downtown San Diego magazine
Please feel free to Contact Bronte Starr for more information on bringing the excitement to your venue.
Bronte Starr
sheilamusic@hotmail.com
619.301.7827
We can also be heard on these radio stations:
The Local 94.9
KPRI
Song Tiger
Indie Global
Sound of Traffic
Sonic Jive
Pro Productions Radio
The Band House Live
KNYO Radio
Bluzz Radio
CMediaTV
BBS Radio
Overground Radio
Dirt Radio
Fevered Brain Radio Network
The Indie Ezine
Ledesma Music
New Paradigm music
-March 13th 2008 all day big show in Austin Texas, more details to follow.
-Nov 24, 2007 Tuesday 2:00 PM Cougar Winery 1 year anniversary! Temecula, CA
-Nov 24, 2007 Saturday 9:00 AM The Cougar winery - 5K/10K run walk for hungry children - Charity Benefit
-Nov 7, 2007 Wednesday 9:00 PM Humphreys by the Bay Point Loma, CA
This will be a Sheila Sondergard full band show with very special guests, Bedford Grove, and The Concrete project (formerly Audio Antics).
-Oct 20, 2007 Saturday 12:00 PM Miramar Air Base Miramar, CA
Playing for the troops, military is free, civilians must be sponsored by military Personnel.
-Oct 19, 2007 Friday 8:00 PM the Pig 'n' Whistle Hollywood, CA
Live show! Sheila and 4 other musicians grace the stage tonight in Hollywood
-Sep 18, 2007
Tuesday 7:00 PM University of San Diego San Diego, CA
-Aug 5, 2007 Sunday 7:30 PM Vinbladhs San Diego, CA
This is an all women's showcase, featuring Lindsey Yung, Lyndsey Cook, Brenda Xu, and myself. $5 cover, all ages.
-Jul 11, 2007 Wednesday 9:00 PM Humphreys by the Bay Point Loma, CA
I will be playing on my dream bill on July 11th 2007, with the sensational Ani DiFranco! I can't believe it... this is one of my biggest influences, and favorite musicians. I will have alot more info for this show as soon as possible, please check back for details! Mahalo, Sheila
-May 9, 2007 Wednesday 9:00 PM the Mint Los Angeles, CA
Chris Stills Andy Sisco: it's going to be a party bus to LA from San Diego, to an amazing club that has hosted the likes of Mick Jagger, Mick Fleetwood, Keb Mo, Johnny Rivers,& the list goes on and on
-Mar 27, 2007 Tuesday 7:00 PM Canes - KPRI listening party! San Diego, CA
will be playing @ 7-8, also playing will be Shawn Mullins, this is a KPRI listening party, so if you want to go it's free but you have to be on my list. I will be playing all acoustic for this gig, so i hope you can make it down to check out the show!
-Mar 23, 2007 Friday 7:00 PM Humphreys by the Bay Point Loma, CA
I'll be performing 2 - 45 minute sets, and then they'll be changing out the stage for Eve Selis, who'll be performing @ 9. This is going to be a great show, so please come on down have a drink or 2, and listen to some great local music, @ one of SD's best venues!
-Feb 26, 2007 Monday 8:00 PM Humphreys by the Bay Point Loma, CA
I'll be performing 3 - 45 minute sets tonight, from 8-11, it's going to be a nice mellow atmosphere. I really hope you can come down and hear me play in a really nice club, no cover & drink specials! See you there! Sheila Sondergard
-Feb 8, 2007 Thursday 9:00 PM BB Kings Blues Club Studio City, CA
$10 for show $40 for the party bus ticket and show!
This is going to be a dinner show. Performing before Sheila is the amazing band Soul Ablaze from SD, & after Sheila will be The Antiques...
-Feb 6, 2007 Tuesday 8:00 PM Winstons Ocean Beach, CA
Singer/Songwriter showcase
-Jan 20, 2007 Saturday 8:00 PM Brick by Brick Brick by Brick, CA